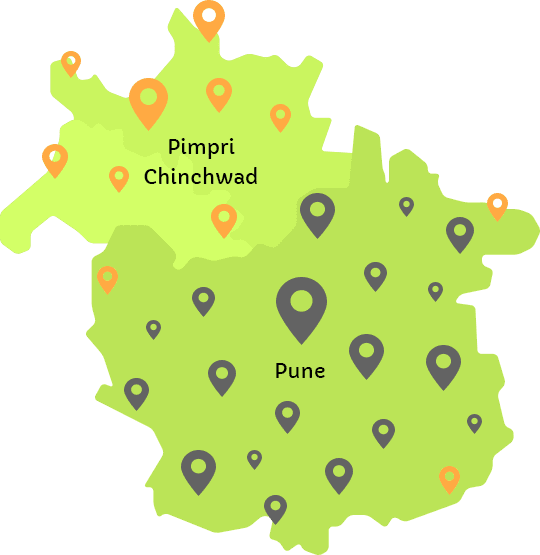 List out places to visit in pimpri chinchwad PCMC
Pimpri-Chinchwad (PCMC), located in the Pune Metropolitan Region of Maharashtra, India, is a vibrant city with numerous attractions. Here, in more detail, are the top 10 visiting places in Pimpri-Chinchwad (PCMC):
Bird Valley Udyan:
Bird Valley Udyan is a popular park in Pimpri-Chinchwad known for its lush greenery, beautiful gardens, and diverse bird species. Spread across 52 acres, it provides a serene environment for nature lovers and birdwatchers. The park features walking trails, well-maintained lawns, and a lake where visitors can enjoy boating. Bird Valley Udyan is an ideal place to relax, have a picnic, or simply enjoy the company of nature. The park is home to various species of birds, including migratory birds during the winter season. Visitors can spot peacocks, parrots, herons, and many other feathered friends. Bird Valley Udyan also has a butterfly garden and a small zoo, adding to its charm.
Appu Ghar:
Appu Ghar, located in Indira Gandhi Udyan, is a popular amusement park in Pimpri-Chinchwad. It offers a wide range of thrilling rides, water slides, and entertainment options for both children and adults. The park features exciting roller coasters, Ferris wheels, and other adrenaline-pumping rides. It also has a dedicated water park section with slides, wave pools, and lazy rivers. Appu Ghar is a perfect place for a fun-filled family outing, providing a combination of amusement and water-based attractions. The park is well-maintained and adheres to safety standards, ensuring a memorable and enjoyable experience for visitors.
Auto Cluster Exhibition Center:
Auto Cluster Exhibition Center is a prominent venue in Pimpri-Chinchwad that hosts various exhibitions, trade fairs, and events throughout the year. It serves as a platform for industries to showcase their products, services, and technological advancements. The center primarily focuses on the automotive and engineering sectors, attracting professionals, entrepreneurs, and enthusiasts from across the country. The exhibitions held at Auto Cluster Exhibition Center provide opportunities for networking, business collaborations, and knowledge sharing. Visitors can explore the latest innovations, interact with industry experts, and gain insights into the automotive and engineering domains.
Bhakti Shakti:
Bhakti Shakti is a spiritual complex located in Nigdi, Pimpri-Chinchwad. It is known for its serene ambiance and houses temples dedicated to various Hindu deities. The main temple is devoted to Goddess Bhakti Shakti, and there are separate shrines for Lord Ganesha, Lord Hanuman, Lord Shiva, and other deities. The complex features beautifully crafted idols, intricate architecture, and peaceful surroundings that create a tranquil atmosphere for devotees. Bhakti Shakti is an ideal place for prayer, meditation, and seeking spiritual solace. It attracts a large number of devotees, especially during festivals and auspicious occasions.
Pimpri-Chinchwad Science Park:
Pimpri-Chinchwad Science Park is a unique educational and recreational park that aims to promote scientific awareness and education among visitors of all ages. The park features interactive exhibits, models, and demonstrations that make learning about science an engaging experience. Visitors can explore various scientific concepts, principles, and technological advancements through hands-on activities. Pimpri-Chinchwad Science Park covers diverse areas of science, including physics, chemistry, biology, and astronomy. The park also hosts science-themed events, workshops, and science fairs, encouraging curiosity and a passion for learning.
Bird Watching at Thergaon Boat Club:
Thergaon Boat Club is located near the picturesque Pawana River and is an excellent spot for birdwatching enthusiasts. The serene environment and the river's proximity attract a variety of bird species. Visitors can spot migratory birds during the winter season, including flamingos, pelicans, herons, and many more. The boat club provides an opportunity to witness these beautiful creatures in their natural habitat. Birdwatchers can bring their binoculars and cameras to capture the mesmerizing avian diversity. The calm and peaceful surroundings make Thergaon Boat Club an ideal place to relax and enjoy the sights and sounds of nature.
Nisargakavi Bahinabai Chaudhary Zoo:
Nisargakavi Bahinabai Chaudhary Zoo, also known as the Pimpri-Chinchwad Zoo, is a small zoo located in Akurdi. It houses a collection of birds, animals, and reptiles, providing an opportunity for visitors to observe and learn about different species. The zoo focuses on wildlife conservation and education, aiming to create awareness about the importance of protecting biodiversity. Visitors can see animals like lions, tigers, leopards, deer, crocodiles, and various species of birds. Nisargakavi Bahinabai Chaudhary Zoo is an enjoyable place for families, especially children, to spend time amidst nature and get a glimpse of the animal kingdom.
Kasarwadi Ganpati Temple:
Kasarwadi Ganpati Temple is a prominent Hindu temple dedicated to Lord Ganesha. It is known for its historical significance and grand celebrations during the Ganesh Chaturthi festival. The temple's architecture is impressive, featuring intricate carvings and a serene atmosphere. Devotees flock to Kasarwadi Ganpati Temple to seek blessings and offer prayers to Lord Ganesha. The festive atmosphere during Ganesh Chaturthi, with elaborate decorations and cultural performances, adds to the temple's charm. The temple's religious and cultural significance makes it a must-visit place in Pimpri-Chinchwad.
Vintage Car Museum:
Vintage Car Museum, located in Dapodi, Pimpri-Chinchwad, is a treasure trove for automobile enthusiasts. The museum showcases a collection of vintage and classic cars, providing a glimpse into the history of automobiles. Visitors can admire the beauty and craftsmanship of these well-preserved cars from different eras. The museum displays a range of iconic vehicles, including luxury cars, sports cars, and vintage models. It offers a unique opportunity to appreciate the evolution of automotive engineering and design. Vintage Car Museum is a paradise for car enthusiasts, history buffs, and anyone with an interest in vintage automobiles.
Sentosa Water Park:
Sentosa Water Park is a popular water-themed amusement park in Ravet, Pimpri-Chinchwad. It offers a refreshing escape from the city's heat, providing a range of water-based attractions and recreational activities. The park features thrilling water slides, wave pools, lazy rivers, and rain dance zones. Visitors of all ages can enjoy splashing in the water, sliding down the slides, and relaxing in the pools. Sentosa Water Park also has well-maintained gardens, food stalls, and entertainment zones, ensuring a fun-filled experience for the whole family. It is an ideal place to beat the summer heat and create lasting memories.
These top 10 visiting places in Pimpri-Chinchwad (PCMC) offer a diverse range of attractions, including nature